Programm 1. The Study Behavior App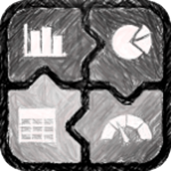 This program is all about a simple idea: Learning is all about feedback.
Runners, for example, use apps like the RunKeeper. Research shows that apps like that enhance engagement and results. And people think it is fun. The essence is that the behavior of the runner is tracked and communicated back to the runner in a dashboard. The important part is that the runner himself can give context to the data and decide if he wants to do something with it.
The question is if you can reach the same positive effect if you had a dashboard for Study-behavior. For students? And what should you measure, track and communicate?
Activities so far…
We had three semesters of 30-80 students creating all kinds of prototypes for Study Tracker Apps. Together we have more than 25 prototypes. You can read more on all the prototypes by using the top navigation. You can read more on apps about study time, focus, noise, time on campus, alcohol, sleep and so on.
The Next Step is that in 2018 we will start rolling out the most promising prototypes to the general Fontys Student App for 45.000 students.
If you are also creating Quantified Study Apps. Please contact me @ r.vandervorst@fontys.nl
BONUS
In 2017 Five Delta students created a biometric quantified student app and won the ICTalent Award.